How to add your Club to Google Maps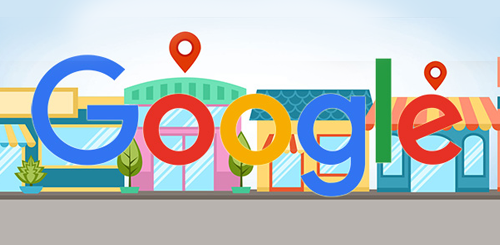 Adding your club to Google Maps is quick and easy and is an excellent way to increase your club's exposure and will show up in Google Map search results.
(Based on a presentation by Donald Law, 2019-2020 Division J Director)
Before you start
Step 1: Is your club already listed on Google Maps?
Search Google Maps to see if your Toastmasters Club is already online.
If not, you can "Add a missing place."
Click the menu icon in the search field 

Near the bottom of the menu click on "Add a missing place" link

Add Name; include "Toastmasters" in name
Add Category; "Non-profit organization"
Add Address; Update location on map
Step 2: Get a free Gmail account for your club
If your club already has its own Gmail account you can skip this step. 
Creating a Gmail account for the club is highly recommended (over using a member's email address) as it can be easily passed on to future executive teams.
To create an account:
If you are signed in to your own Google Account, click on your profile photo in the upper right corner and select "Add Another Account" 

Select "Use another account"

Click on "Create Account". It will ask you if it's: For myself, or To manage my business. Click on "To manage my business."
The new window will ask for a first and last name for the account. Use your club's name for the First Name, and "Toastmasters" for the last name. Then give your gmail account a name. Possibly your club's name with "Toastmasters".
Claim the Business
To maximize your club's online presence in Google Maps you need to Click "Claim this business". Your club will appear higher on Google searches.
Step 1: Claiming
Sign in with your club's Gmail account (if you don't have one see "Step 2: Get a free Gmail account for your club" above)
In Google Maps search for your club
Click "Claim this business", if you don't see, it means this club has already been claimed. (see: What to Do if Someone Else Claimed Your Google My Business Listing)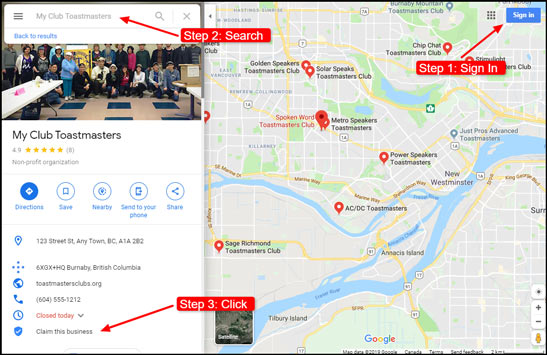 Step 2: Verifying
Google Maps gives you several options for receiving the verification code; smartphone text message or a post card mailed to the club address.
Note: With smartphones, Google Maps uses GPS to confirm your meeting location, ideally request verification code while at meeting location. You'll have a short window of time to enter the verification code; otherwise, it will expire.
Steps to verify Google My Business:
Sign in to your Google account
Enter your verification code and submit!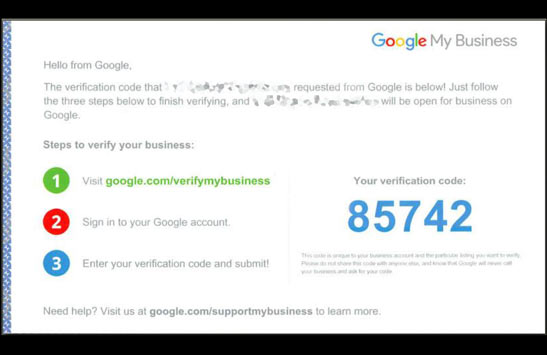 Next Steps
Once you have verified your Club you can access various Google Maps features and analytics. Like:
Create an Offer Post
Update Info on meeting times and days
Insight - How do guests find you online?
Key word searches -What are guests typing in to find your club online?
Google Searches vs Google Maps - How are guests searching for your club online? 
Customer actions on Google - What are guests clicking on when they find your Toastmasters club.
Direction requests - What part of the city are your guest coming from? Where should you focus marketing efforts?
Photo views - Which photos are most popular?
Reply to Reviews - Address comments or  Thank guests for visiting.
Manage permissions for users - President, VP Public Relations, VP Membership, etc.
Photo/Video  - Add/Update/remove Profile photos, Cover photos, Videos.
To access your clubs's My Business account
Click on Google App Launcher
Click on My Business icon.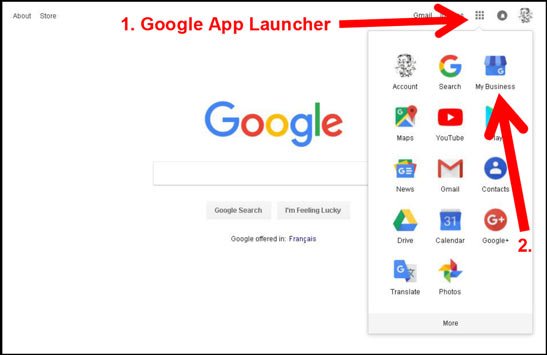 Photo Suggestions
Members proudly displaying Toastmasters Club banner
Members showing club culture and character 
A typical meeting setup
Meeting in session
Toastmasters Club banner
Tips
Share your Google Maps link e.g. https://goo.gl/maps/KoTt6RB8H1J2
Ask guests to post a review of their experience at your Toastmasters club.
Add photos. Create awareness of your club.