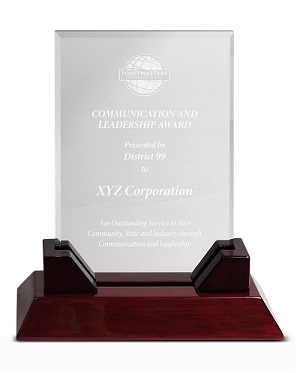 The Communication and Leadership Award is presented to a person in the community who is an outstanding communicator or leader. This award is typically presented to a media person, provincial or local politician or business person.
Past Recipients
2022/23 - Gary Segal
2021/22 – Gurdeep Pandher
2020/21 – Hari B. Varshney 
2019/20 – Norman Blair
2018/19 – Baltej Singh Dhillon
2017/18 – Maggie Ip
2016/17 – Darren Jacklin
2015/16 – Katy Harandi
2014/15 – Charles Jago


Trophy reads:
Communication and Leadership Award
Presented by District96 to (name of recipient)
For Outstanding Service to their Community, State and Industry through Communication and Leadership.

Glass with beveled edge. Rosewood finished base.