About District 96
We are home to one of the first clubs to be established outside of the United States. Meeting in the Yukon and part of British Columbia, we have approximately 2,700 member (alongside District 21 which is south of the Fraser River). Toastmasters International is broken down into 14 regions around the world, with several districts in each Region.  District 96 is in Region 1 - which covers western North America, from northern Califoria and Utah, British Columbia and the Yukon to Alaska.
District 96 has a long history of results in leadership development and communication excellence.
District Mission
We build new clubs and support all clubs in achieving excellence. 
District Success 
Our District receives recognition from the province and many municipalities year after year for the impact Toastmasters has brought to British Columbia. As a result, February is now recognized as Toastmasters month.
There are 7 divisions spanning multiple municipalities within District 96. These include: Vancouver, Burnaby, Tri-Cities area, southern Sunshine Coast, Squamish, Whistler, "everything north of Kamloops in British Columbia" and Whitehorse in the Yukon. Each Division is typically divided into 4 to 6 Areas. Each Area is typically home to 4 to 6 clubs.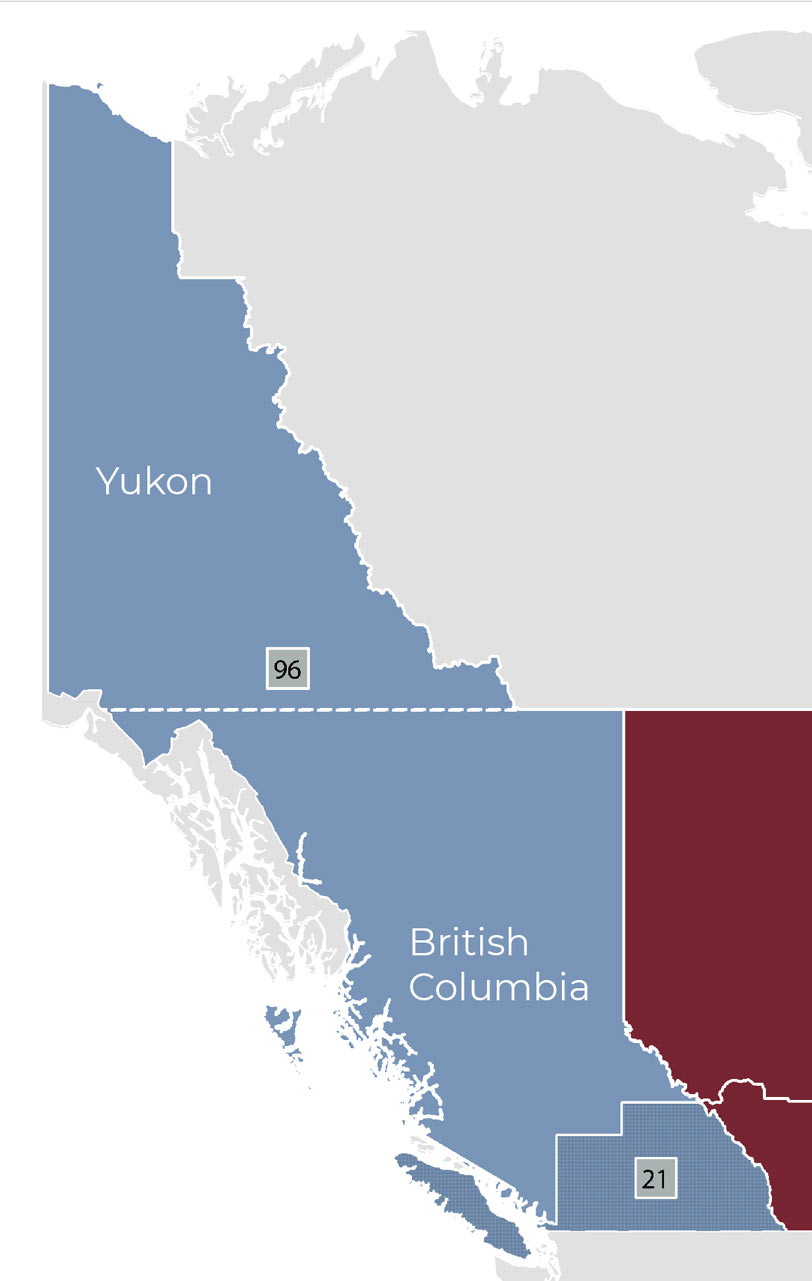 Types of Clubs
The Toastmasters family consists of four types of clubs: Community, Corporate, University/School and Advanced clubs.
Community clubs - make up the majority of Toastmasters clubs. These clubs are generally casual clubs where Toastmasters gather with a shared mission to become better communicators and leaders.
Corporate clubs - draw membership from employees of an organization and depending on the charter may be open to non-employees.
University clubs - Universities and colleges across the province host clubs of staff and students. They function like community clubs and run year-round.
Advanced clubs - are for advanced Toastmasters wishing to meet with other advanced speakers and work on their speaking, communication and leadership skills with feedback from more experienced members and the opportunity to give long speeches. In order to give members the opportunity to belong to more than one club, advanced clubs often meet monthly instead of every week or every two weeks. 
Club culture varies between clubs and prospective members are encouraged to visit a club multiple times to get a good grasp of the culture and atmosphere.
Part of a club already?
Toastmasters are encouraged to visit different clubs, discover the whole Toastmasters family and bring any inspiration from other clubs back to their home clubs.
Start a new club:
Can't find a club near you? Find out how you can start a new club.